Youth Awards and Scholarships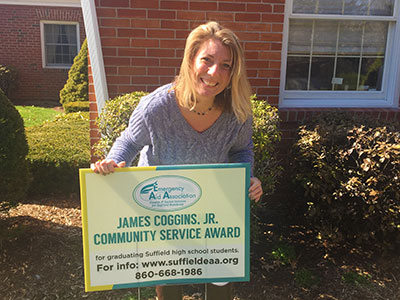 Jane Purtill Fuller Scholarship
: To recognize the many contributions of our past employee and long-time supporter of the Suffield Community Aid, the Board of Directors dedicates an annual needs-based scholarship in memory of Jane Purtill Fuller. It is awarded to a graduating Suffield high-school senior pursuing a nursing or social service field of study. Applicants wishing to apply should complete the Common application, provided by the SHS Guidance Dept., by the required deadline. If the graduating student attends a high school other than SHS, they should call SCA.  The deadline is mid-May of each year.
James F. Coggins, Jr. Community Service Award
 In memory of our late volunteer and Board Member, James F. Coggins, Jr., the SCA offers an annual $1,000 award to a graduating Suffield or West Suffield senior who demonstrates selflessness, generosity and concern for the community through their volunteer activities. Applicants are asked to send a 500-word essay supporting their selection to the SCA at 450 South Street, Suffield, CT 06078. The deadline is mid-May of each year.
Kathy Ostrowski Scholarship: Kathy Ostrowski was a beloved Suffield resident and former SCA Board member who had a passion for helping others within and beyond her commitment as a nurse.  Beginning in 2022, SCA awards the Kathy Ostrowski Memorial Scholarship to a Suffield graduating senior, in pursuit of a nursing degree.
Suffield Community Aid • 450 South Street, Suffield, CT 06078 • 860 668-1986 • Contact Us
Copyright © 2018 • All Rights Reserved